Discography 2 & Ordering Info
Complete catalog of Frenay & Lenin releases from 1991 to 2000.
To order, send check or money order (payable to Gary Frenay) to:
Frenay & Lenin
243 Arlington Ave.
Syracuse, NY 13207
Include 2.00 (US$) for postage and handling.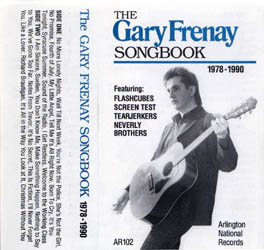 Gary Frenay (Cassette) 1991
Gary Frenay Songbook, 1978-1990
Double length cassette-only release from the co-founder of the Flashcubes. Covers the career of songwriter Frenay, from the Flashcubes (10 songs, with five of those available only on this package) to the beginnings of his solo career. Features fourteen Screen Test songs, one Neverly Brothers song, and the Tearjerkers long out-of-print 45, "Syracuse Summer". 28 tracks in all! Includes "No More Lonely Nights", "Born To Cry","Tell Me It's Allright Now", "Welcome To The Working Class", "Make Something Happen, "Notes From Trevor" and "Christmas Without You.
Arlington National Records (AR 102)
10.00 (US$)
Gary Frenay (CD) 1993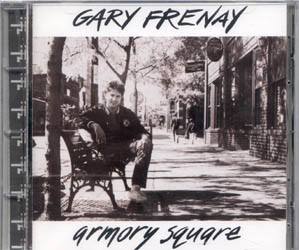 Armory Square
Acoustic pop debut from ex-Flashcubes/Screen Test singer/songwriter. Features "unplugged" versions of several Flashcubes' favorites, "Suellen", "Born To Cry" and "Prince Of Passion". Other standout tracks are, "I'll Never Forget You", "Chevy", "December Boys" and "Good Morning Merry Sunshine". GOLDMINE Magazine called Frenay, "...quite possibly the single best undiscovered songwriter in the world". Features his longtime partner from The Flashcubes & Screen Test, Arty Lenin, on nine tracks.
Northside Records(NS 501)
12.00 (US$)
Gary Frenay (CD) 1995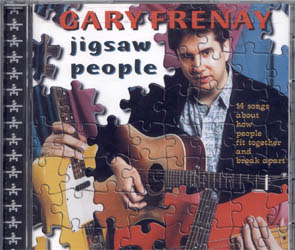 Armory Square (Re-Issue)
National re-issue of Frenay's acclaimed '93 release. Includes bonus track "Sound Of His Guitar", inspired by the death of Nirvana's Kurt Cobain.
Tangible Music 56801-2
12.00 (US$)
Also available at www.amazon.com
(Credit Cards welcome)
Gary Frenay (CD) 1996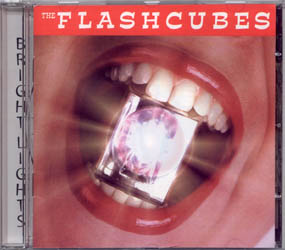 Jigsaw People
Frenay's second solo release is a departure from the stripped-down sound of his first CD, ARMORY SQUARE. This is a fully-produced affair, with great songs and loads of guest appearances. Styles range from the rockin' pop of, "We Connect" , "You Only Get One Life" (w/The Flashcubes) and "Dancin' At The U.N.", to the introspective "I Shall Return" and "Arlington Avenue". Special guests include The Kennedys on "She's Leaving" and Catie Curtis on the cover of her song, "Troubled Mind". Produced by Mark Doyle and Ducky Carlisle.
Tangible Music (56807-2)
12.00 (US$)
Also available at www.amazon.com
(Credit Cards welcome)
Flashcubes (CD) 1997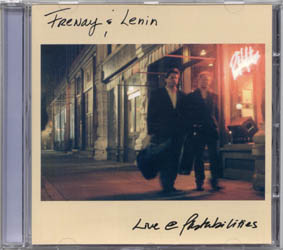 Bright Lights - Anthology
Long-awaited CD compilation from the legendary Syracuse, NY new wave/power pop band. Tracks include both their singles, "Christi Girl" & "Wait Til Next Week", "It's You Tonight" (which was featured on YELLOW PILLS, Vol 1), their power pop classic "No Promise" and a live version of "Got No Mind" recorded at the Firebarn Tavern in 1979 -- 21 tracks in all! All songs have been remixed from original multi-track master tapes, and remastered to digital. Package includes a 16 page booklet with photos and extensive liner notes, and a CD-ROM section with audio clips, lyrics, more photos, and complete song notes, discography and sessionography.
Northside Records (NS 503)
12.00 (US$)
Also available at www.amazon.com
(Credit Cards welcome)
Frenay & Lenin (CD) 1999
Live@Pastabilities
Acoustic duo live! 22 tracks that document Frenay & Lenin's three year residency at the popular 'Armory Square' restaurant/nightclub. Features 11 originals, including "I Shall Return," "It Might've Been Memphis," "Waste Of Time," "Make Something Happen" and "Night Flight." Also great covers of songs by John Lennon, Bob Dylan, Marshall Crenshaw, Tom Waits and (of course) the Everly Brothers.
Vector Records (VR 101)
12.00 (US$)
Also available at www.amazon.com
(Credit Cards welcome)
Arty Lenin (CD) 2001
A Life Of Ease
Long awaited solo debut from songwriter/guitarist Lenin. Great songs and performances abound! From the blistering "Cherry's World," and "When We Close Our Eyes", to the introspective "Not Much Has Changed," (written with the Beat's Paul Collins) there's something for everyone on this standout disc!
Produced by Arty Lenin & Sam Patterelli.
Stout Records (ST 101)
12.00 (US$)